Fate/Grand Order -First Order-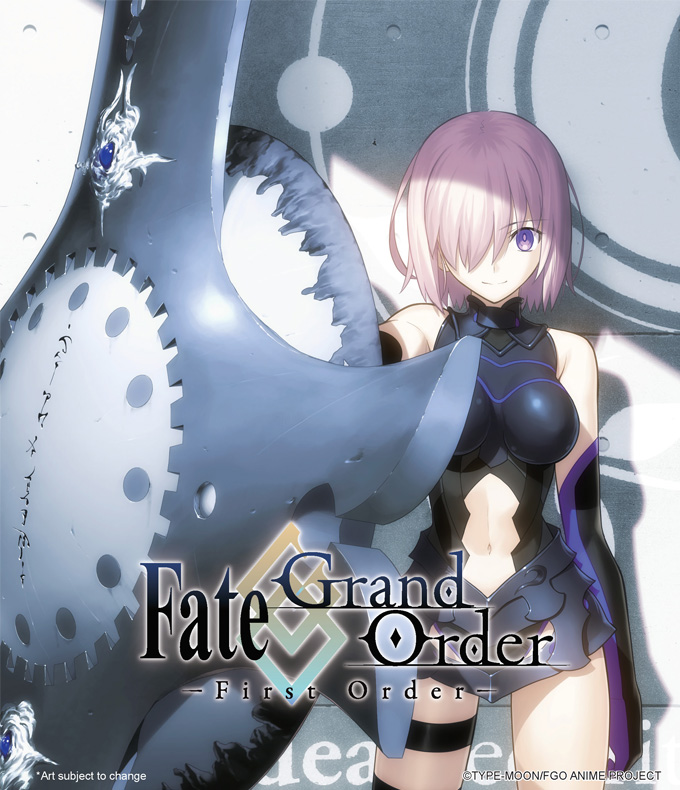 Coming 10/24
Based on the popluar mobile game Fate/Grand Order,
the greatest Holy Grail War has begun!
The year AD 2017. The last era in which magecraft still thrived.
The Chaldea Security Organization was founded to ensure the continuation of human history.
They survey a world which magecraft couldn't observe and science couldn't measure all to prevent the certain extinction of humanity.
But one day, the future that Chaldea continued to observe disappears and humanity's extinction in 2019 becomes clear. Rather, it had already happened.
The cause seems to be related to Fuyuki, a provincial town in Japan, in the year AD 2004. There, an "unobservable region" that had not existed before appears.
Based on the assumption that Fuyuki is the reason for humanity's extinction, Chaldea issues an order to explore, investigate, and possibly destroy this singularity – a quest for the Holy Grail, the Grand Order.
Disc Spec:
Spoken Languages: Japanese & English
Subtitles: English & Spanish
Aspect ratio: 16:9 widescreen
Episodes: 1 OVA
Number of Disc: 1 Blu-ray Disc
Total Run Time: Approx. 70 Minutes
Rating: 13 UP
Bonus Contents:
■ Fate/Grand Order Game Opening
■ Fate/Grand Order Announcement Trailer
■ Fate/Grand Order Gameplay Trailer
■ Fate/Grand Order Character Trailers
■ Fate/Grand Order -First Order- Dub PV
■ Fate/Grand Order -First Order- Cast Interview
※Bonus contents are subject to change

Bonus Materials & Package:
■ Deluxe Booklet
■ Original Anime Soundtrack CD
■ Special Package Illustrated by Takashi Takeuchi
(Original Character Designer)
※Bonus Materials and Package are subject to change

SRP : $89.98
Retail Price : $69.98